Rajeev Ranjan Singh
Chief Executive Officer
---
Mr Rajeev comes with a proven track record of more than 28 years in Building Material industries and modern retail involving Home Improvement domain. He is a change maker and a turnaround specialist who works on putting effective strategies driven with innovations and ensures its effective implementation. Mr Rajeev had been handling P&L role for more than 15 years for best of companies in the segment and had been driving profitable growth of the business and converting loss making units into a profitable one.
Mr Rajeev is highly skilled in strategic management, People management, driving business through team building, Process design and channel insight. His ability to bring in innovative and differentiated strategies to business creates an edge over the competition
Prior to joining Al Maha Ceramics, Rajeev was heading Indian operations of RAK Ceramics as President for 5 years and before that he worked with India's leading retail group, Future Group as Chief- Home Improvement. Rajeev also held senior leadership roles at Kajaria Ceramics, H&R Johnson, L&T (Ultratech Cement) and JK Cement.
Mr Singh is B Tech in Civil Engineering from HBTU Kanpur with MBA.
---

P. Mani
Senior Factory Manager
---
Mr Mani has more than 34 years' experience in the Ceramics industry in the Middle East & India. Prior to joining Al Maha Ceramics in 2007, he was heading the R & D and QC functions at Emirates Ceramics Factory, Fujairah and worked there for 20 years.
Mr Mani holds a Diploma in Ceramics Engineering from Institute of Ceramic Technology in Tamil Nadu, India.
---

Manish Agarwal
Chief Financial officer
---
Mr. Agarwal is a qualified Chartered Accountant and Cost Accountant with a vast experience of 24 years and has extensive knowledge & experience in areas of General & Financial Management, Financial Planning & Reporting Controls and Compliance. Before joining Al Maha, he was working with Bahrain Ship Repairing & Engineering Co. BSC as Chief Financial Officer for more than 7 years.
He has been working in Bahrain for the past 19 years and has worked with companies namely Gulf Saatchi & Saatchi and Batelco ICT.
---

Zayed Said Zayed Alreesi
Manager – Exports & Projects
---
Mr Zayed has 15 years of Sales & Marketing experience in building Material industry. Before joining Al Maha Ceramics, he was Asst. General Manager- Sales & Marketing in Gulf Stone, Oman. He has been working on different roles in the same company.
Mr Zayed holds a Diploma in Business from Sohar University.
---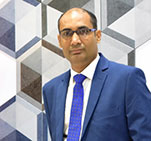 Himanshu Bhatia
Sales Manager - Oman
---
Mr Himanshu Bhatia has 18 years of Sales & Marketing experience in building Material industry. Before joining Al Maha Ceramics, he was Sales Manager in Sadoline Paints, Oman for 4 years. Prior to that he has worked for 12 years at various Sales positions in Paints & office stationery companies in India.
Mr Bhatia holds a Degree in Bachelor of Science & Diploma in Computer & information management from India.
---
Etab
Acting Asst. HR Manager - Oman
---
Has about 10 years of experience in the field of Human Resource and Administration. Prior to joining the Company in 2013 she was the HR Manager in GS engineering & construction.
Ms Etab holds a Diploma in HR from Buraimi University College, Oman.